Sarita doesn't like the small town life that Paso Alto offers. She wants the crook Carl Thompson to keep his promise to take her away to Mexico City, but he's hasn't made good on that yet and Sarita is tired of waiting.
Story
Sarita shares a drink with her beau Carl Thompson and reminds him that he promised her four months ago that he would take her to Mexico City. They argue over his promise and the purpose of two strangers who arrived in town.
When one of them demands that Thompson face him, Sarita tries to convince him to avoid conflict and leave. They trade loud words and blows and Thompson leaves. Later, after the two quarrel again, Thompson shoves Sarita and orders her to go home.
Instead, Sarita goes to the stable where the strangers are staying. She offers them Thompson's stolen money, which is hidden away at her house. They agree to go with her, but on the way they run into Thompson's gang.
Outnumbered, the Americans hide in the stable and trade bullets with the gang. Meanwhile, Sarita runs to a gathering of townspeople and offers them their guns which Thompson stole and hid from them. Now armed, the townspeople head off to the fight while Sarita returns home.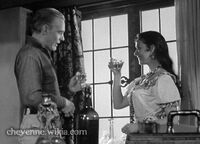 While she waits at home, Thompson arrives having escaped the townspeople. He tells Sarita that they're leaving for Mexico City. Instead of going with Thompson, she tries to stab him but he wrestles the knife away from her. Outside the house, the townspeople have arrived and are calling him out. Thompson goes out the front door with Sarita as hostage at gunpoint. Sarita shouts for the others to kill him and fights him for the gun. It goes off and fatally wounds her. She dies as the priest gives her last rites.
Ad blocker interference detected!
Wikia is a free-to-use site that makes money from advertising. We have a modified experience for viewers using ad blockers

Wikia is not accessible if you've made further modifications. Remove the custom ad blocker rule(s) and the page will load as expected.