Mule came into the possession of a tall cowboy one long, harsh winter up in the mountains.
Story
Mule once belonged to the U.S. Army before she was traded to Armstrong the shop owner. Armstrong created a great backstory for Mule, claiming she was an authentic Spanish mule once belonging to a don. He told this story to Cheyenne Bodie one harsh winter in hopes of trading Mule to the cowboy for two of his saddle ponies. Desperate, Cheyenne agreed to the trade and rode out into the mountains on Mule's back. Cheyenne was a rather tall and heavy rider, but Mule managed just fine.
When a snowstorm blew in to the valley where Mule was staying, she protested loudly about being left in the cold and snow outside. Cheyenne brought her into his shelter for the night. The next morning he led Mule outside and asked her if she'd ever seen such a beautiful sight as the snow-covered hills surrounding them.
Mule kept Cheyenne company during that long, brutal winter, going in and out of his shelter as she pleased. The pair spent Christmas together and Mule listened to Cheyenne talk through the night as he made an evergreen wreath.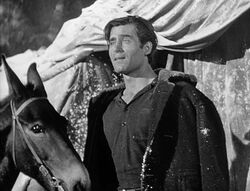 Mule helped Cheyenne manage the herd all winter, and carried him to visit
Tom
and
Susan Doonevan
when they returned to their homestead in the spring.
When Cheyenne was traveling back to the valley, criminals ambushed him and shot him off Mule's back. Despite this surprise, Mule didn't bolt and Cheyenne managed to survive the ambush. Mule brought him back to their shelter where Cheyenne shot some of those bad guys, and was assisted by a criminal known as The Dutchman. As a way of saying thanks for saving his life, Cheyenne traded Mule to this man in exchange for his horse, instructing him to take good care of her. The Dutchman promised to treat Mule like a lady.