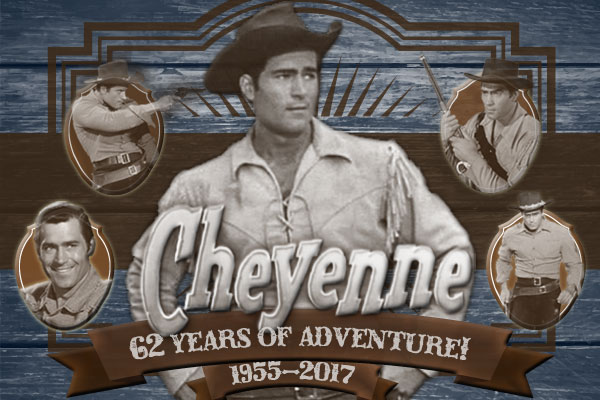 Welcome to the Cheyenne Wiki
A fan-edited community celebrating
Cheyenne
, TV's first, hour-long western drama. The mission of the Cheyenne Wiki is to document, promote and enjoy the
Cheyenne
television show, the people who created it and other media that expand on the
Cheyenne
universe. Read, post, chat, contribute!
271 articles
since December 5th, 2010
Get to know Cheyenne
Cheyenne was the first hour-long western broadcast on television, full of fist fights, fast gunplay, lots of cattle drives, dangerous gunslingers, daring cowboys, mysterious indians, and romance. One of the highest-rated shows of its era, ABC broadcast 108 episodes of Cheyenne from 1955 to 1963 in black and white. The main character was memorably portrayed on the small screen by 6-foot, 6-inch-tall Clint Walker, a newcomer to Hollywood.
Each episode followed the adventures of loner Cheyenne Bodie as he wandered through the lives of characters and communities in post-Civil War America.
Skilled in ways of frontier life thanks to his upbringing among the Cheyenne indians, master of the quick draw, physically impressive and morally grounded, Cheyenne Bodie was a western hero molded into the varying storylines and situations in each stand-alone episode.
Explore the world of Cheyenne
Cheyenne Bodie - The spoke at the center of the Cheyenne universe. Read more about our hero...
Theme Song - "Move along, Cheyenne, next pasture's always so green." Do you remember all the lyrics? Check your memory...
Cheyenne Videos - Trailers and snippets of the Cheyenne show for your viewing pleasure...
Featured Articles - Learn about Cheyenne by reading our most comprehensive articles...
Places - Has Cheyenne traveled to a location near you? Find out by exploring the places he's been...
Guest Stars
See these famous guest stars and more in episodes of Cheyenne:
Buy Cheyenne
You can buy all seven seasons of Cheyenne on DVD from these authorized sellers:
www.clintwalker.com - The official site of actor Clint Walker. Autographed copies of DVDs available signed by Clint himself.
www.wbshop.com - Warner Brothers Studio online store.
Contribute to the Cheyenne Wiki
Not sure where to start?
Watch Cheyenne
Episodes of
Cheyenne
can be viewed on these networks: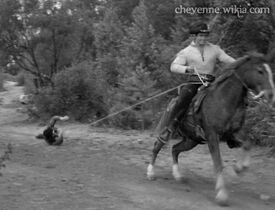 Cheyenne must keep his identity a secret while he deals with a pregnant woman, a cattle herd, range pirates and a possible murder charge. Read more about Wagon-Tongue North
Learn more about the origins and early life of our hero View a list of the stories and people that figure prominently in the early life of Cheyenne Bodie.
Featured Quote
"Man like him wants nothing more than a saddle with a horse under it and an open road in front of him."
- Martin Storm describes Cheyenne in The Storm Riders
More sources on Cheyenne and Clint Walker
Featured Video
The Cheyenne Show Intro