Comic books based on the Cheyenne television series were released in the United States, Argentina, England and Australia.
Dell Comics
A series of 25 comic books based on the Cheyenne television series were published from 1956 to 1961 by Dell Publishing based in New York. The full-color comics were 36 pages long and contained two comic stories featuring Cheyenne as the main character. To fill out a book, the comics sometimes included a generic western text story; a shorter comic story featuring the adventures of Small Bear, a Cheyenne indian and a one- or two-page spread featuring Cheyenne's tips on trail life, such as hunting or cooking in the wild.
Comics were sold in the United Kingdom as collected hardcover books called annuals. For more details on these, read Cheyenne Annuals.
Audience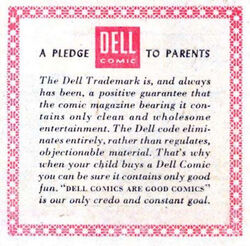 Dell Comics were produced for children, with the company promising in print "only clean and wholesome entertainment."
Story
Numerous comics are retellings of television episodes. The comic stories emphasize action over plot-heavy drama, and romance is almost non-existent. Gun play is a regular part of the stories, but given a softer edge. Characters are often wounded rather than outright killed in gunfights.
Art
Art and ink duties were performed by Tom Gill. The most notable thing about the comic book art is how little the Cheyenne character art resembles Clint Walker. Whether this was for convenience, contractual limitation or by design is unknown.   
Issues
Notes
When Clint Walker walked off the Cheyenne set during a contract dispute, he was replaced with actor Ty Hardin who starred as Bronco Layne. The comic also made the substitution starting with issue 10, placing Bronco as the main character but without changing the name of the comic. However, when Walker returned to the show and Bronco was created as a spin-off TV program, a companion comic was not created for the new show. Cheyenne returned as the lead in issue 13.
Links